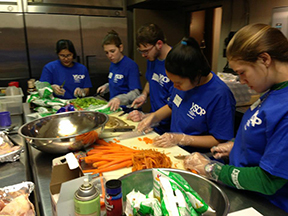 Adelphi Students on a recent service trip to Washington D.C. prepare food for a local soup kitchen.
by Brett H. Spielberg

At Adelphi, giving back is part of the campus experience and March is Adelphi Gives Back Month. With diverse programs, opportunities and excursions, Adelphi students have proven to be among the most conscientious and community-service minded in the region.
In 2013, Adelphi was awarded the President's Higher Education Community Service Honor Roll—given in recognition to universities that have shown excellence in developing and implementing effective community engagement and community service programs at their institutions—for the third year in a row. 
Adelphi's Relay for Life team is coming off a fantastic 2012 campaign and hundreds of campus community members have been involved in this fundraising project for the American Cancer Society. "The point of the month is to provide a variety of different opportunities for students to take part in whatever type of service they're into," Michael Berthel '08, senior assistant director for the Center for Student Involvement (CSI), said. "Some people can write letters, some can donate blood and others want to do manual labor and help build homes." 
Recently, CSI organized a service trip to Washington, D.C., for hunger and homelessness. Julianna Claase '15 developed this four-minute movie on her unique experience.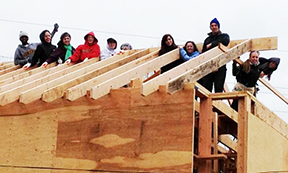 Adelphi lends a hand to Habitat For Humanity
On a more local level,12 Adelphi students from different disciplines, along with their chaperone, Kathleen Watchorn, assistant to the dean of student affairs, took a field trip for a service project building a home for a young family in Roosevelt. Working side by side with Habitat for Humanity workers, Adelphi students were able to make a difference in the lives of a young family and gain knowledge they otherwise would never have experienced.
Community Fellows
The Community Fellows Program (CFP) is entering its third year and with 138 applications already submitted, the program has demonstrated dynamic growth, particularly over this past year. 
"Our interns have given somewhere around 17,000 community service hours to a variety of diverse causes," Thomas J. Ward, executive director of the Center for Career Development, said.
CFP offers competitive, paid summer internships to 60 undergraduate students, in any major, who might not otherwise be able to participate in a paid internship opportunity and gain valuable experience in the nonprofit sector.
This marked the inaugural year for the Community Fellow of the Year Award, and Mahnoor Misbah '14 was awarded for her work with Global Kids.
Global Scholars
The Levermore Global Scholars Program (LGS) represents Adelphi's spirit of giving back by fostering outstanding leadership focused on global learning and civic awareness with their unique program.
"It starts in the classroom, spreads to the local level and extends to the global community," Peter Debartolo, administrative director of LGS, said. "Local and international actions are interconnected and are all about promoting a global service effort."
Coming up March 21 and 22 is the Eighth Annual Conference for Peace and Human Rights, this year focusing on peace and sustainability on a global level. Subsequently, LGS students will take a field trip to the United Nations Headquarters in Manhattan where they will learn more about sustainable development as well as potential careers with the UN.
About Adelphi: A modern metropolitan university with a personalized approach to higher learning.
Adelphi University is a highly awarded, nationally ranked, powerfully connected doctoral research university offering exceptional liberal arts and sciences programs and professional training with particular strength in its Core Four—Arts and Humanities, STEM and Social Sciences, the Business and Education Professions, and Health and Wellness. Adelphi is dedicated to transforming students' lives through small classes, hands-on learning and innovative ways to support student success.
Founded in Brooklyn in 1896, Adelphi is Long Island's oldest private coeducational university. Today Adelphi serves nearly 8,000 students at its beautiful main campus in Garden City, New York—just 23 miles from New York City's cultural and internship opportunities—and at dynamic learning hubs in Manhattan, the Hudson Valley and Suffolk County, and online.
More than 100,000 Adelphi graduates have gained the skills to thrive professionally as active, caring citizens, making their mark on the University, their communities and the world.